United Kingdom Jackpot Hat-trick
It would seem that Friday night's £61 million Euromillions draw has produced its winner. As yet, the winner is likely to remain anonymous, but a spokesman for the National Lottery had this to say:
"What an amazing win for the UK - the fourth EuroMillions jackpot to be won here this year."
"We're delighted [that] the ticket-holder has come forward to claim their prize and their ranking of 10th place in the National Lottery rich list."
The exact figure won for Friday's lottery win was £61,102,442.90 thanks to matching all of the main numbers (1 - 21 - 26 - 40 - 50) as well as the Lucky Star Numbers (2 and 4).
This, after an unknown United Kingdom ticket holder had won the £51,8 million back in April. Prior to the April win, the February jackpot was worth £24,7 million which was claimed by yet another UK player. However, the Euromillions boasts a ten-tier structure so the jackpot was by no means the only win produced from the current draw. Five additional players had also taken home a guaranteed $1 million in cash prizes as well as a luxury trip to Australia's Gold Coast in the UK Millionaire Maker.
Past Euromillions Jackpot Winners
These three winners are a long way off from The Euromillions' biggest ever jackpot for a UK winner. Those historic titles are shared equally by Colin and Chris Wier from North Ayrshire, who's odds were at the time 1 to 116 million. They, in managing to correctly match all of the main numbers as well as the bonus number, raked in a total of £161,653,000 in July 2011. In 2014, Neil Trotter was the lucky winner for an astonishing £108 million which was won from a £10 ticket purchase.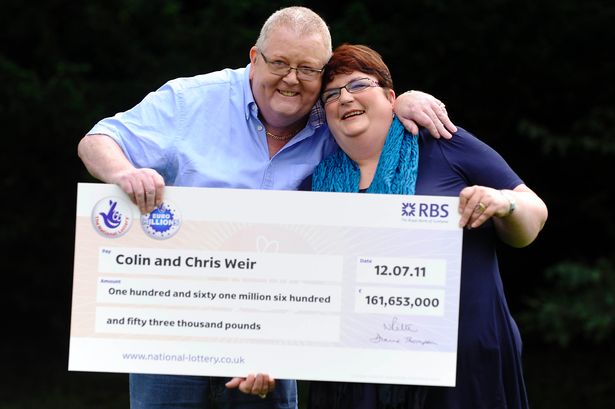 Mrs Weir, a psychiatric nurse, had this to say: "We had bought five lucky dips as the jackpot was now so big. I started circling the numbers I had matched but wasn't doing very well."
"Then on the fifth line all the circles seemed to join up. I had all of them but couldn't believe what I was seeing," she added.
"I checked three or four times before going back downstairs to find Colin. He knew immediately by my face and tone that something was up."
The genesis of the Euromillions came at the hands of the French, but later included more European nations with the likes of Belgium, Austria, Ireland, Switzerland, and Portugal all wanting to a slice of the proverbial pie. If you fancy your chances at a slice, stay tuned to Cheaplottos where updates will be available after every Euromillions draw on Tuesdays and Fridays at 20:45 Central Eastern Time. We will also keep you up to date with all the
lottery news, results and breakdowns
.